Post by nomad on May 30, 2017 9:56:59 GMT
1945, the Great British Bath White Year.
Pontia daplidice
of the Pieridae family is a common butterfly in much of Southern and central Europe. Ever since the first specimen of
P. daplidice
was taken in Britain by William Vernon (1660-1735) in 1702, the butterfly which is known here as the Bath White, has always has been regarded as a great prize among British butterfly collectors. It mattered very little that the butterflies they captured had flown across the English Channel from France, the very fact that they were seldom seen in Britain, made them all the more desirable, they had become an interesting but rarely seen part of our butterfly fauna.
In the
Aurelian Legacy
(2000) on some species of historical interest, the Bath White,
P. daplidice,
the authors wrote.
" During the whole of the second half of the twentieth century, it has been among the rarest migrant butterflies ; annual numbers have seldom exceeded two and in most year there are none reported" .
During the the summer of 1945,
P. daplidice
arrived in England in unprecedented numbers, around 700 were reported and a good many captured . A few luckly collectors were in the right place at the right time, two of them were on holiday on the southern coast of Cornwall. Bernard Kettlewell (1907-1979) the famous geneticist took 37
P. daplidice
on July 14 at Falmouth and on the same day C.S.H. Blathwayt caught 38 at Looe. Kettlewell managed to obtain the ova and bred a long series and among them were a number of aberrations. Not only Bath Whites arrived here in 1945 but with them came a number of our rarest immigrant butterflies.
Kettlewell account of his captures of
P. daplidice
along with other rare migrants in Cornwall was originally published in the
Entomologis
t for 1945, and was later reproduced in full in the
Aurelian's Fireside Companion
(2005) pp 190-191. Here is an extract from his notes, on July 14 Kettlewell wrote.
" fine and sunny. I noticed an insect fly out of a herb bed which I at first thought was Abraxas grossulariata (Magpie Moth). It came to rest in some parsnips, where I procured it by picking it up between my finger and thumb. To my amazement it was a newly hatched female P. daplidice. I hastily returned to my hotel to get my net and whilst running through the garden I saw my first hyale (Pale Clouded Yellow) and then another daplidice. On returning with my net I caught the hyale, which was a fine male. A quarter of an hour later I caught my second daplidice. It was somewhat worn, but the normal green pattern of the underside was entirely replaced with grey-black. It was a female I found no more in the next half hour, so I crossed the road into a small valley which was entirely taken up with allotments. Pontia daplidice was flying freely here, I spent a great deal of time following the females, endeavouring to find on what they were ovipositing.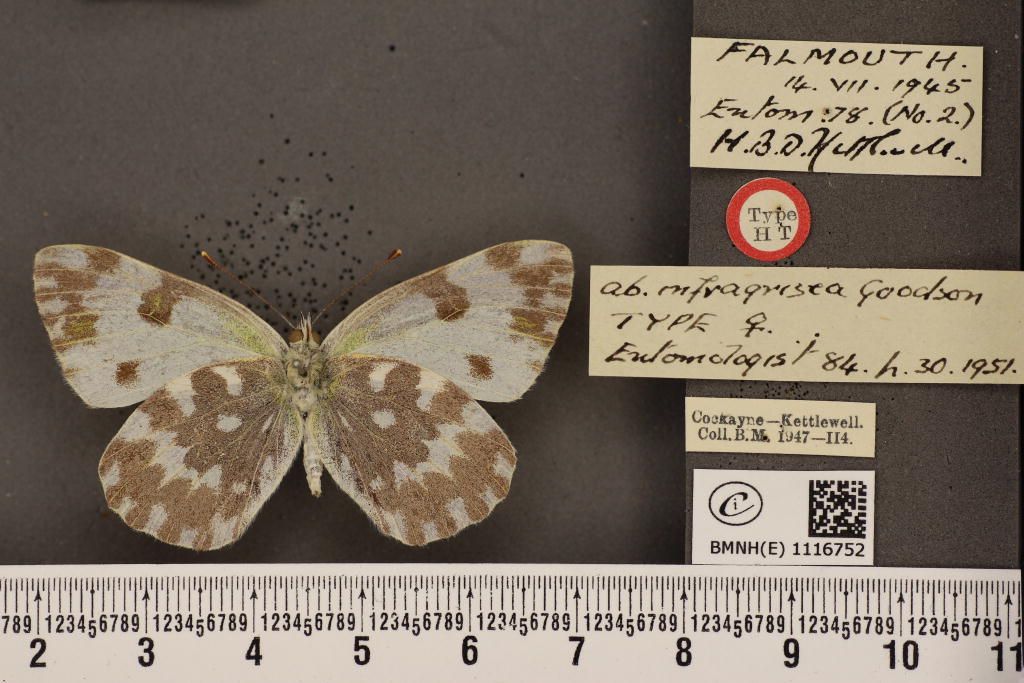 The rare aberration of the female
P. daplidice
that Bernard Kettlewell caught on 14 July 1945 at Falmouth in the hotel garden, named ab. infragrisea Goodson 1953. BMNH.
Kettlewell amazing luck continued, on July 16 he caught one of Britain rarest immigrant Butterflies,
Cupido argiades
, only around 17 have ever been captured in Britain. He recorded
" At about 2 p.m. I noticed a blue moving on a patch of hop-trefoil. I turned back to look at it, as I suddenly realized that it had an underside like Celastrina argiolus (Holly Blue) and it would be unlikely place to see this species. To my amazement I found it was a fine male of E. argiades ( Short-tailed Blue) in good condition, its two tails being obvious on close examination. At this stage an awful feeling of unreality came over me, which was not helped by seeing another daplidice flying towards me".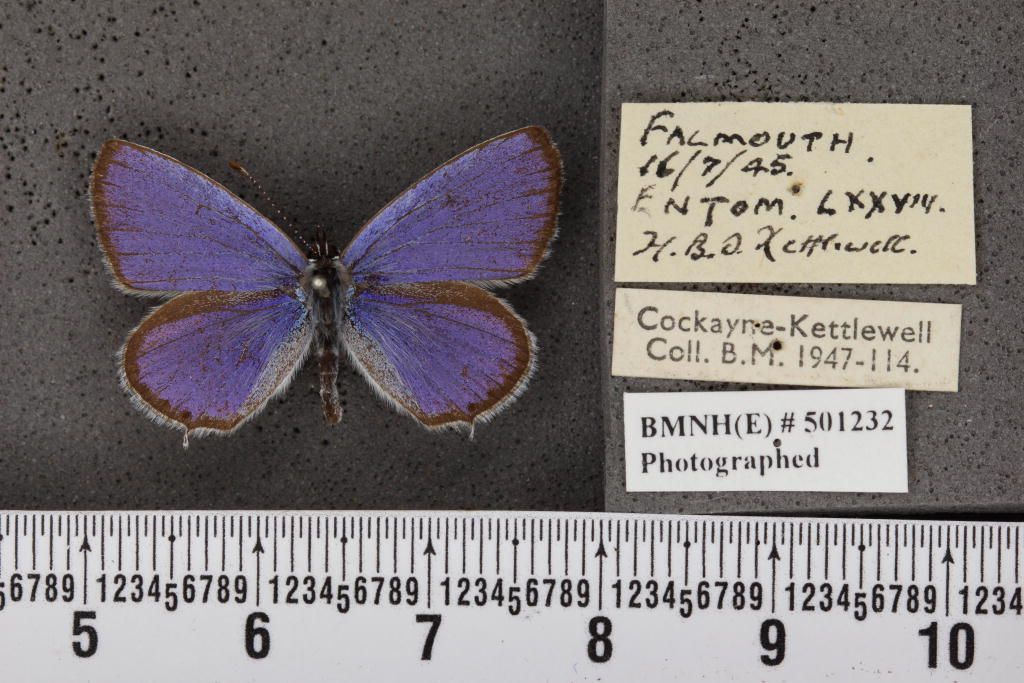 The specimen of
Everes argiades
that Kettlewell took at Falmouth on July 16, 1945. BMNH.
Charles Stephen Hare Blathwayt (1916-1991) from Weston-super Mare in Somerset also produced brief notes in the same issue of the
Entomologist
regarding his encounter with P. daplidice during 1945,
" During a short holiday at Looe, Cornwall, whilst collecting along the hedges of a large rough field about two miles inland, on July 14, I noticed some Whites flying N to NE towards Liskeard. I assumed they were Pieris napi or perhaps MelanargIa gathathea ; there were only one or two and they were not close to me. At 1.15 pm, a quater of an hour later, I saw, the first P. dalidice and netted it over a small thistle in the field. Immediately afterwards I saw many more. Between 1.15 p.m. and 2.30 p.m., I caught 38, mostly feeding on or flying over thistles. I should think about 200 were present. The field was very large and steep, and chasing up and down the slope very exhausting. By about 2 p.m. the daplidice had left the field, many of them having flown high over the trees that bordered it. A few were still about in the next two fields, but these soon left, flying north, towards Liskeard. By 2.30 there were none to be seen".

"During the previous day there had been a very strong S.W. wind, whivch dropped about 9. p.m. and did not start again till 10 or 11.am, the following morning. On July 16 I visited the field again and took a further 6 P. daplidice making a total of 43, of which 25 were males and 18 females. A few Colias hyale were about, and I took two fresh females ".

Specimens of
P. daplidice
caught by C. S. H. Blathwayt on July 14 1945 near Looe in South Cornwall.
Specimens of
Colias hyale
taken by C. S. H. Blathwayt on July 14 1945 near Looe in South Cornwall.
On the North Coast of Cornwall at Bude, the collector A. H .H. Harbottle, a resident of that village recorded 47
P. daplidice
in the summer and Autumn of 1945. The experiences of Kettlewell, Blathwayt and Harbottle were exceptional, nearly all the other records of captures of
P. daplidice
during 1945 were of singletons or perhaps two. Ian Robert Penicuick ( 1904-1970) of Burnham in Somerset was fortunate to collect six specimens of
P. daplidice
that year, one of the first arrivals of the summer brood in July 1945 and five specimens of the resulting Autumn brood which appeared in a mild October.
On the 30th July 1945, Heslop had gone in search of
Maculinea arion
and perhaps
P. daplidice
at Marsland Mouth ten miles north of Bude on the Cornwall-Devon county border. The date would appear to have been a late one to look for
M. arion
but that year it had been a cold and wet end to the Spring after a promising start to the butterfly season. Heslop recorded in his diary for the 30th July ,
daplidice has turned up in considerable numbers in parts of England, a friend of Violet's Mr John Cook had taken one near Bude on July 23 or 24. The first white I examined was daplidice, it was almost the first butterfly I saw, though I examined hundreds of whites I did not take another. Arion helped to make the day more interesting".

Returning to Marsland Mouth on the Ist of October 1945 after a brief spell collecting at Bude, Heslop took four specimens of
P. daplidice
of the Autumn brood and on the dunes near his home at Burnham another specimen was secured on the 5th of October. It had been a remarkable collecting year for Heslop and the others, previously on the September 25 , Heslop caught two
Issoria lathonia
, another butterfly common elsewhere but an extremely rare immigrant to Britain. The
I. lathonia
were found among
Vanessa atalanta
and
Vanessa cardui
on the Mendip hills at the Butleigh Mounement in Somerset, a favourite hunting ground of Heslop.
Specimens of
P. Daplidice
caught by Ian Heslop in 1945.
The two specimens of
Issoria lathonia
caught by Ian Heslop at Butleigh in Somerset during September 1945.