Post by nomad on Feb 24, 2017 10:57:22 GMT
Entomological connections.
Mr Seaman, a natural history dealer from Ipswich, caught specimens of a hairstreak at Monks Wood in the old county of Huntingdonshire in England during 1828, which he at first thought were
Satyrium w-album,
but being unsure of his captures, he sent specimens to the celebrated entomologist Edward Newman who pronounced the butterfly to be
Satyrium pruni,
a species new to the British List.
Mr Seaman with his eye on a handsome profit, decided to lie to Newman about the locality of his new hairstreak, so as to keep other entomologist's as far as away from his potential gold mine, giving Yorkshire as the haunt of
S. pruni
and this was dutifully recorded by John Curtis in his British Entomology published in 1829. Later, Monk's Wood became a celebrated collecting locality for its rare butterflies and S.
pruni
was found to be plentiful there.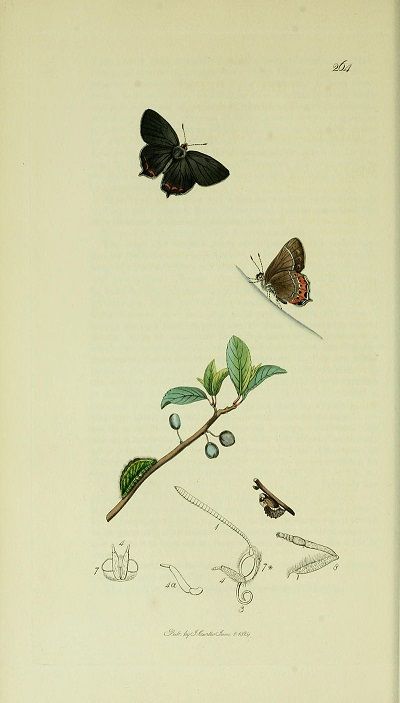 Illustration of
Satyrium pruni
and its larva from
John Curtis's British Entomology, Volume 5,
1829.

Edward Newman in his
An Illustrated Natural History of British Butterflies
published in 1871, listed Monks Wood and other localities for
S. pruni
and wrote
" Benjamin Standish of happy memory, was at that time in full possession of his insect hunting powers and also of an imaginary estate and baronetcy in the north of England ; how often were he and I companions to Darenth and to Birch! He was fired with ardour at the turning up of a new butterfly, and we consulted long and often on the expediencey trip to Yorkshire in quest of the old baronetcy and the new hairstreak. Alas all the actors in this little comedy, except myself, have been removed from works to reward ; the baronetcy has gone to another, and perhaps a more direct line ; and the once ' new' hairstreak is in the butterfly market at a very moderate price ".

Unlike most 19th century British butterfly dealers, Benjamin Standish must have been well thought of and was a friend of many of the most eminent entomologists of his day, such as Dale, Stephens, Curtis and Newman etc. At some point in the 1820s-1830s, Benjamin Standish of London made two huge 60 drawer mahogany cabinets (Standish Best Make) for George Brownell of Liverpool. When Brownell died in 1858, his collection and his cabinets were sold in separate lots at J.C. Stevens auction room at Covent Garden in London. Attending that Stevens auction on that November day in 1858 was George Weare Braikenridge (1815-1882) from Clevedon in Somerset who bought one of the Standish cabinets and came away with a number of rare British rarities from the Brownell collection that included a
Nymphalis antiopa
(Camberwell Beauty), 3 British
Lycaena dispar
(Large Coppers, making his number up to 12), 3
Cyaniris semiargus
(Mazarine Blues) and a number of rare Hawkmoths. When Braikenridge died, his cabinet housing 5000 specimens with many rarities was left to a museum, sadly not a single Braikenridge specimen had any data, which was not an unusual among the earlier 19th century British collectors.
Notice placed in
The Entomologist's Weekly Intelligencer
for 1858 by J.C. Stevens, announcing the sale of the Brownell Lepidoptera collection and the Standish cabinets.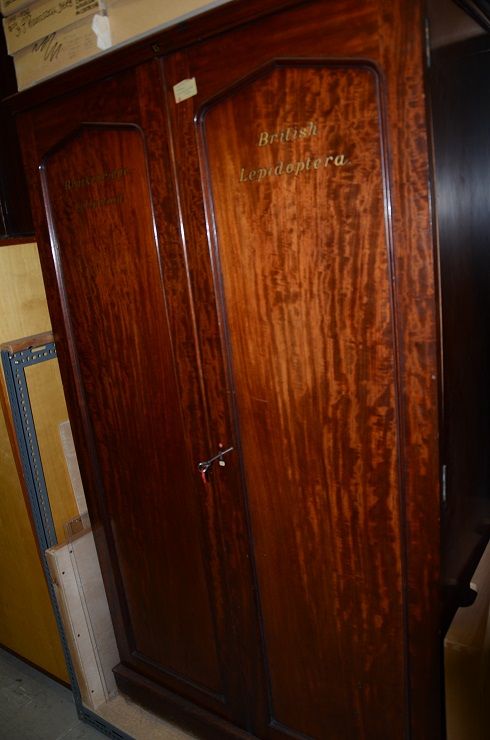 The Benjamin Standish cabinet which housed the George Weare Braikenridge British collection.
Among the rare Hawk Moths (Sphingidae) that Braikenridge bought at the 1858 Steven's sale, was said to be the first two hybrid specimens that had been achieved of
Smerinthus ocellata
(Eyed Hawkmoth), and
Laothoe populi (
Poplar Hawkmoth). The first recorded instance of the pairing and breeding of
S. ocellata x L. populi
in Britain was by Henry House who exhibited specimens at the London Entomologist's Society in 1837. (
Zoologist, 1843. 1, p. 175
).
Henry House had been trying to produce the hybrid hawk moth
Smerinthus ocellata x Laothoe populi
for the previous ten years without success but when he finally did, he viewed his insect as a sort of Frankenstein creation, he wrote to his friend, W. Raddon,
" I have often indulged in fanciful ideas respecting the production, but never conceived such an unfinished painting as it is, this is not nature improved by art, but nature sadly defaced by art, as the beauty of both species is in a great measure lost". (The Transactions of the Entomological Society of London, 1843, 3. p.194).
This hawk Moth hybrid has been known to occur in the wild.
The first specimens of the hybrid hawkmoth
Smerinthus ocellata x Laothoe populi
produced by Henry House. George Brownell Collection. Braikenridge collection.
A later 19th century British pair of
Smerinthus ocellata x Laothoe populi.
Typical specimens of
Smerinthus ocellata and Laothoe populi
from the Braikenridge collection.