Post by skandinavisk on Jan 30, 2016 16:03:19 GMT
Around the time when I moved to Palawan in 1994, Colin "Trig" Treadaway had started collecting especially Sphingidae, Saturniidae, Lasiocampidae and Eupterotidae from the Philippines, in cooperation with other European researchers. I never really had collected moths in a dedicated way, even during my earlier years of collecting. It was mostly sporadic and opportunistic collections that I made. After having met Trig for the first time around '94/'95, he sponsored a dry battery and black flourescent tube outfit and I wold go to the forest to look for material for him. Trig paid well for my material and new and exciting things kept showing up each month. I put food on the table at home and did something I really loved to do. Perfect!
Soon after this relation to Trig had commenced, my father came to visit us and he brought a very portable Honda EX350 generator which he got as brand new from the Danish moth collector and distributor of Honda power tools, Bjarne Skule. He did not pay VAT on it (for export) and the Bjarne sold it without a profit as he knew it was for my collecting and research in Palawan. Great!
This generator really opened the world of moth collecting to me. At about 9 kg. dry weight it was easy to put in a rucksack and fill out with white sheet and collecting boxes. Except when the rains were very heavy, I would go collect several nights each month. Sometimes I went alone, but mostly I would go with my brother-in-law for 4-7 days at a time and would nearly always come home with something new and exciting in the boxes. My brother-in-law soon learned what to look for too, so we often took shifts at the light trap. After several hours of hiking in the hot and humid forest, one would be too exhausted to make it through the night alone. I also collected quite a lot with my personal German friend Andreas Zwick, who is now working professionally at Australian National Insect Collection (ANIC) in Canberra, Australia. Gosh we spent many nights in the forests of Palawan.
Most moths would come to light at certain times of the evening or night. 1-1½ hour before sunrise would be a time not to be missed!
Samia treadawayi
and a range of really special species of Lasiocampidae and Shingidae would get active at this time, but only for 20-30 minutes. A few species would always come the light trap just as the sun was setting.
Macroglossum
and some
Eupanacra
species would come at sunset and always set to rest low at the back of the white sheet. Often they would circle a couple of times around the white 160W mercury light first.
The gorgeous
Callambulyx amanda
Kitching & Spitzer, 1995 is a Sundaland species and rather uncommon in Palawan. It only comes to light traps as the sun is setting, so the window to see this species is about 20-30 minutes per day! Only once did I see it at a light trap after sunset. This specimen is a ex pupae female. No records of host plant, as the larvae was found walking on the ground and pupated right after.
Pupae of
Callambulyx amanda
.
Other species like the endemic
Attacus lemairei
would mostly come to light between 22-00, but the closer to midnight, the better. Occasionally I would get breeding stock. Mating
A. lemairei
in captivity never worked for me, so imperfect females I would tie up with a soft nylon thread, around the body and between the wings and then brought them to a forest area near my home, just as the sun was setting to avoid birds finding and eating them. At sunrise I would be back and over night most females would be mated by wild males, always ensuring a "wild" breeding stock.
A. lemaire
i larvae on "Bankal"
Nauclea orientalis
(Rubiaceae).
Common Sphingidae at a light trap in Palawan would be these for instance;
Ambulyx moorei
Theretra oldenlandiae
Pupae of
Theretra oldenlandiae
The larvae of
Theretra oldenlandiae
are often found on
Aroids – Araceae
.
Also common in Palawan is
Daphnis hypothous
.
A pupae of Daphnis hypothous shortly before hatching.
Uraniidae are common at most light traps. Here a
Lyssa
sp.?
A unidentified moth pupae found in the deep forest.
Not uncommonly, various animals would be attracted by the many insects that the light traps would draw in. Of the more interesting ones would be the endemic
Palawan porcupine
, which has very long spikes....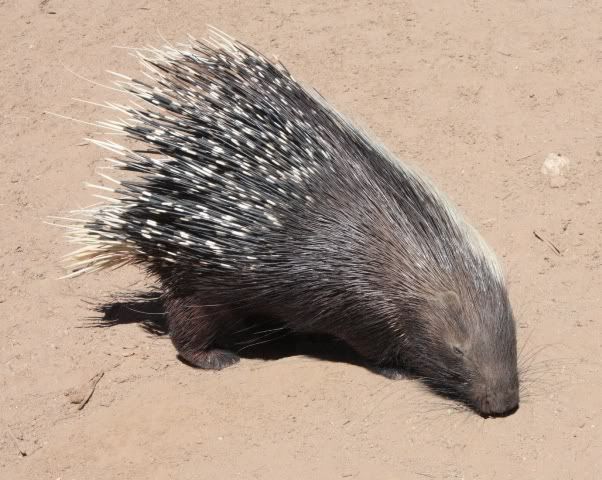 and the
Palawan bear cat
However, the more commonly encountered and to me far less charming animals, was hand-sized black scorpions and the 20-25 cm. long centipedes and the occasional tarantula on tiptoe with their fangs ready to strike. Just like my brother-in-law, I just hate spiders, especially at the size of a man's hand! A couple of them may have lost the fight with my brother-in-law's machete.... At the white sheet wild honey bees could be a real nuisance at certain times of year. Most painful though was some rather large reddish brown wasps that often would settle on the clothes and crawl around the neck area and pack some quite painful stings at the back of the neck.
Light trap just started at sunset. Apart from the sunset specialities, the first hour or so after sunset would present only the most common species of Limacodidae, Noctuidae and Pyralidae.
As the evening progresses, more and more species show up and at around 21 there will be a continuous influx of everything from the forest. Many Sphingidae arrive around midnight. At sunrise the white sheet can be totally packed with a score of species of all families, beetles, mantises, etc. Various species of Lycaenidae readily come to the light too and I actually collected quite a few Arhopala this way. 200-500 specimens of Sphingidae is not uncommon at the white sheet at sunrise.
Two ways of watching the light trap; The comfortable way.... A bamboo bed from an abandoned mountain resort, with a "roof" to protect from heavy night time dew.
and the rough way.... a bed sheet right on the ground. A great way to meet scorpions, centipedes and tarantulas face-to-face! They all love to sneak under the bed sheet and keep warm under your sleeping body. Only in the morning when you pick up the bed sheet do you realize that you rested on a bed of potentially painful and poisonous creepy crawlies all night!!! Love it!
As the sun rises a choir of cicadas tells you to go home. These cicadas has an exotic song that starts slow and then picks up in pace. It sounds like a series of uwi-uwi-uwi-uwi. I speak fluent Tagalog (Filipino) and I therefore find the cicada song particularly funny, as the word "uwi" in Tagalog actually means "go(ing) home" - just how appropriate is that having disturbed them all night through! Go home, go home, go home, go home.... As the sun rises and you are taking your cane sugar sweetened morning instant coffee, with your Spanish pan de sal bread, the first
Trogonoptera trojana
birdwing pass by in front of you and day collecting starts for the exhausted moth collector. (Remember to switch on your speakers and click the picture/player).
Jan