Post by africaone on Jan 25, 2016 10:53:05 GMT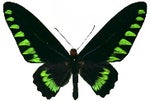 I certainly agree with you on this one Peter! I have a friend who is what I always termed a stamp collector as he hardly has any even slightly damaged specimens - be it Coleoptera or Lepidoptera in his collection. However, he is very much into entomology and does know a lot about his certain area in particular - he just want his collection to be top quality material only. Certainly not my style, but each person their pleasure. However, he makes lots of field observations and document them by photo's, video nowadays and that in itself is also a great and valid documentation of our beloved "bugs", in its own right. They just don't go into boxes in a museum and can for obvious reasons thus never be used for DNA sampling or alike future research. I never collected micro-lepidoptera, coleoptera or any other insect order myself as these does not not really interest me, though I'm still amazed by their obvious beauty and/or intricate patterns. Those who are into those groups of insects have my full respect nevertheless. So even "stamp collectors" can certainly be very keen entomologists in their own right.
The "unknown" private entomologists contributions to various museums across the world certainly must make up a great pool of material and data! The pretty unknown, private me, has contributed many more lepidoptera specimens from Palawan to the Copenhagen Natural History Museum than the lepidoptera collections made by such expeditions as the second
Noona Dan
expedition (1961-62). The same is true for my north Pakistan collections there.
Jan
the entomology is the study of insect by any way, any level. Stamp collection is doing this only (use a catalogue and put in his collection what is in the catalogue only without any consideration for the diversity, the new things, biology, etc.).I met this kind of collector, not only in insect. Their aim is not the love of insect but the collection itself.
"stamp collector" is not synonym of amateurs, lovers, photographs, etc. Strange to see how an expression, purely descriptive, can be derived.